5 TRENDS FOR INNOVATION OF PUBLIC UTILITIES IN THE FUTURE
Today, the demand for entertainment – sports activities in parks and public grounds for all subjects, especially children, is increasing to improve society's health, practice skills, and communication ability. However, the planning of these places in Vietnam is not good, with few utilities, leading to a sparse situation and not attracting a large number of participants. So what is the solution?
To solve this problem, 067 Company, the leading design consultant, supplies amusement park equipment and landscape architecture in Southeast Asia. We will suggest five innovation trends helping public facilities at playgrounds, sports fields, and parks in Vietnam become more attractive than ever in the future.
1. TRENDS TO USE TECHNOLOGY INTEROPERABLE PUBLIC UTILITIES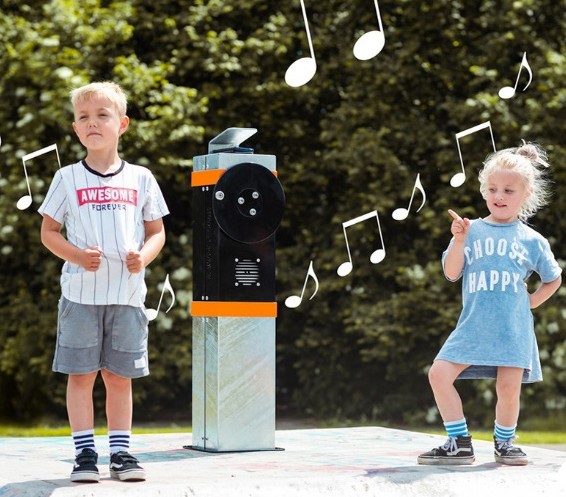 Integrating technology into public utilities is gradually becoming an inevitable and indispensable trend in all park landscape designs today. In some European countries, people have created unique facilities such as children's playground equipment with integrated sound and beautiful lighting, DJ-style outdoor music players, or chairs. At the same time, park managers have gradually understood the psychology of users by increasing more wifi hotspots, adding more safe power plugs and charging functions. The phone can both advertise the brand.
2. CHILDREN'S AREA EQUIPMENT HAS INTERESTING THIS SAFETY GUARANTEE BY EUROPEAN STANDARDS
Outdoor play is scientifically proven to bring many benefits to children in every way. However, is the playing field in Vietnam safe and attractive today?
Park managers in Vietnam have begun to change their perception and pay attention to selecting children's playground equipment according to European standards. The outstanding advantages are diverse designs, delicate designs, many exciting themes such as spaceships, pirate ships, vast oceans, green forest exploration, and high safety and quality according to international standards.
Besides choosing equipment, you also need to consider other safety factors equally important, such as the floor surface when children play. And EPDM rubber flooring is in vogue, most popular today because of its flexibility in landscape design, eye-catching colors, and extended durability.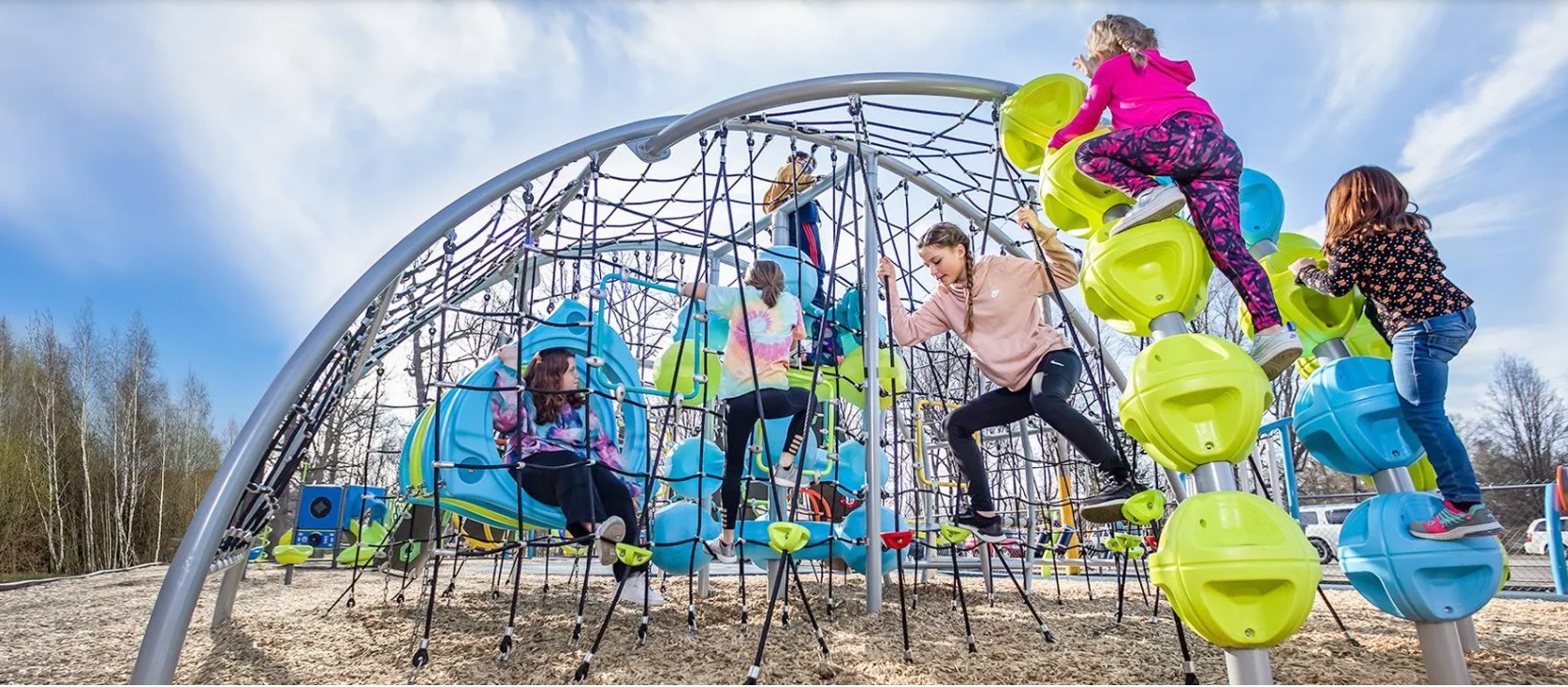 3. OUTDOOR FITNESS EQUIPMENT IN MODERN AND MIDDLE ORIENTED
If you pay close attention, you will see more and more outdoor sports equipment appearing in parks and public premises. It shows that health promotion awareness is gradually gaining popularity, but perhaps not enough with today's modern life. Park managers have added many new street fitness-style equipments in the West, such as Parkour, X-Game, or Skateboard. The sport is a bit risky and challenging, but providing a safe environment will help young people break through all limits and practice enthusiastically every day.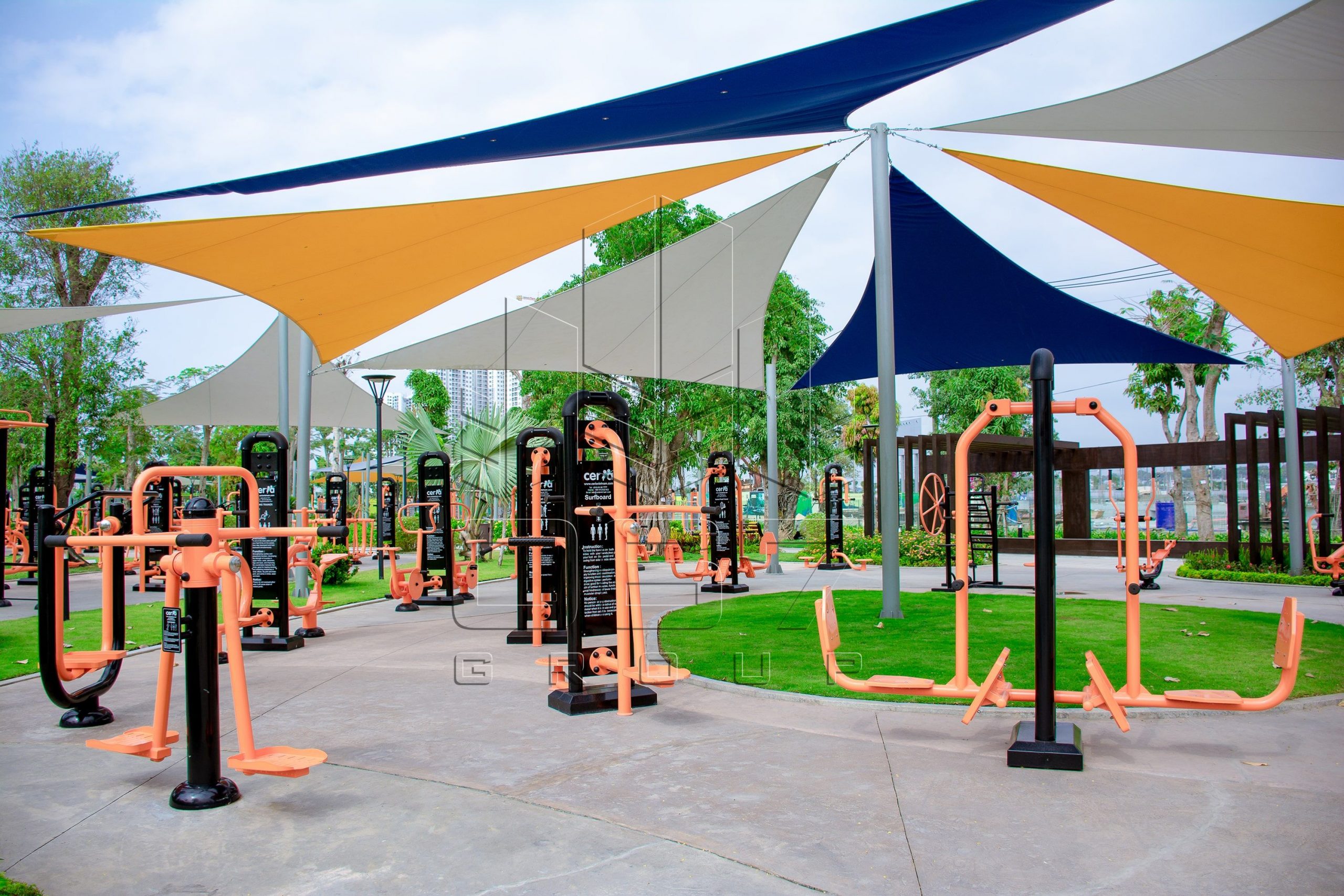 4. TREND TO CREATE A COOL SPACE WITH A UNIQUE DESIGN ROOF
The shade is a type of equipment that is familiar to many civil works today. For children's playgrounds, sports areas, rest spaces, or parking lots at parks, the roof is convenient and necessary to help people comfortably play and exercise even in severe weather and hottest. Not simply canvases or plastic assembled on iron bars, today's roof needs to have a unique, modern design, harmonious colors, and highlight the public space that is a trend. Future. It helps to design the landscape of outdoor play areas, increasing the aesthetic value and use-value.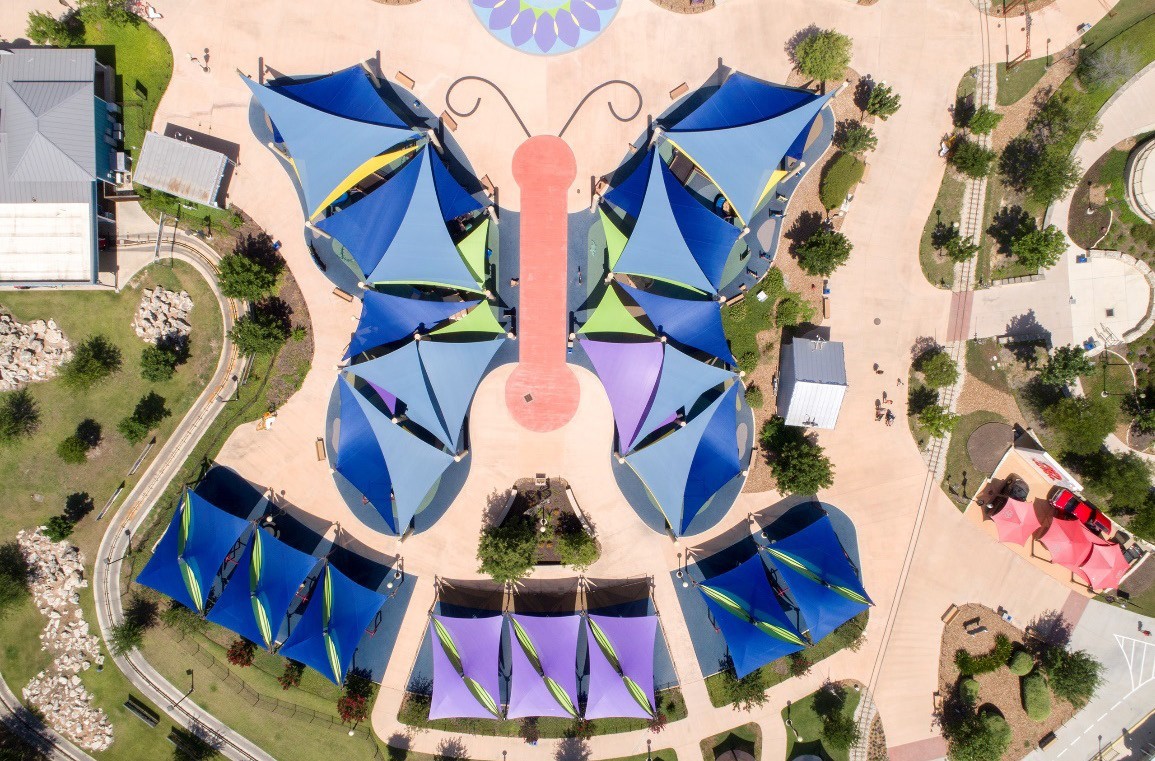 5. ECO-FRIENDLY DESIGN OUTDOOR FURNITURE TREND
In landscape architecture, outdoor funiture equipment such as tables and chairs, potted plants, trash cans, and lighting equipment is indispensable. In addition to convenience and durability, environmental friendliness and sophisticated design are increasingly being focused on.
Therefore, urban planners and managers should actively seek protection-oriented and environment-friendly public utilities such as recycling bins. It helps raise awareness of waste disposal, garbage disposal, a stump guard to prevent damage to trees or a bicycle holder to help encourage people to use green vehicles to reduce emissions and improve air quality in big cities.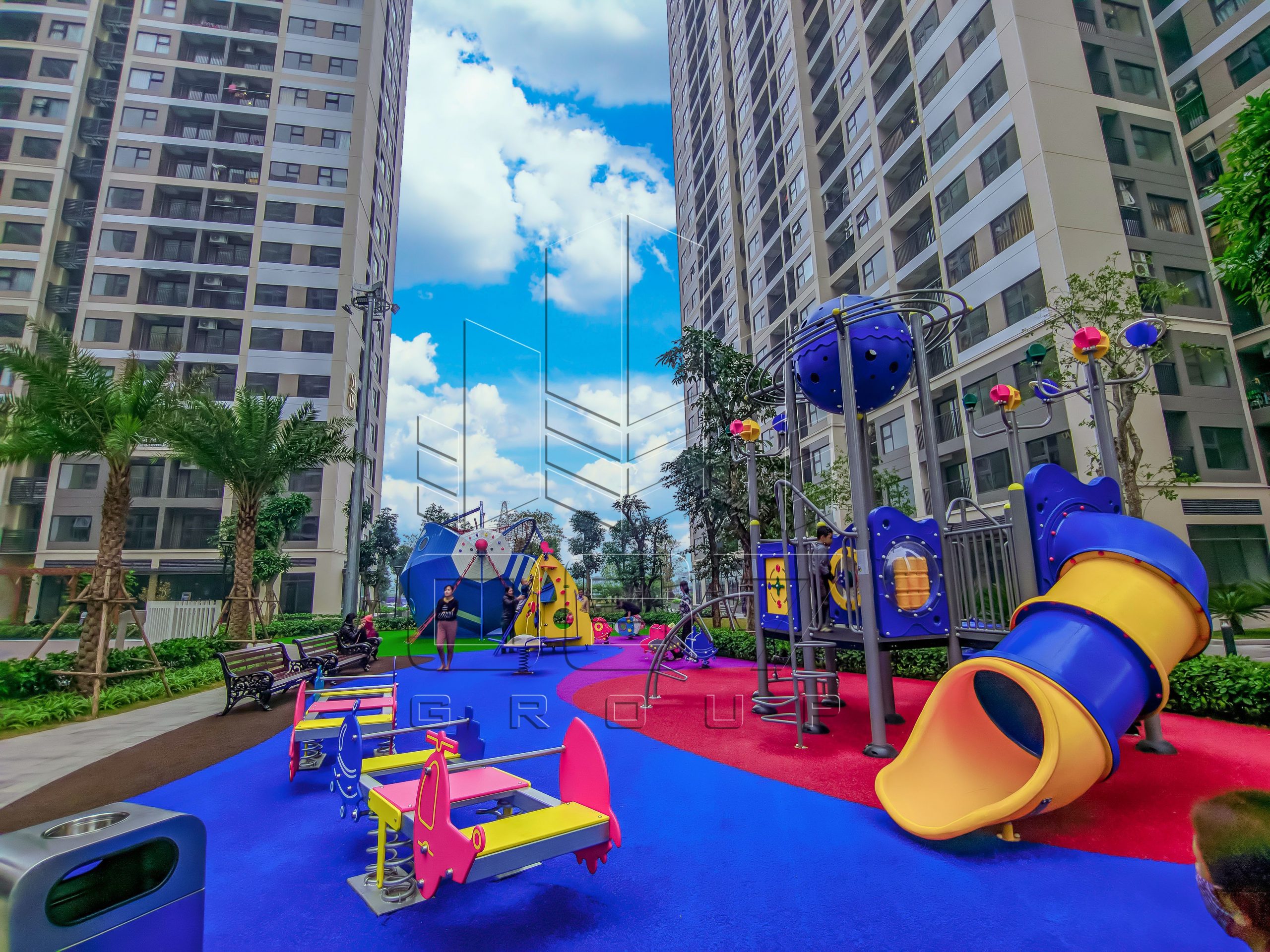 SUMMARY
In general, choosing children's playground equipment and public utilities is not easy. Therefore, you should look for suppliers that are both reputable and able to package services such as design, installation, and warranty to fit the budget and ensure the project schedule.  Through in-depth analysis and real-life images of the above trends, 067 Company wishes to bring readers a better perspective fully, objectively, and better understand the valid values that public utilities bring. At the same time, we want to inspire a more modern, youthful, healthier, and happier lifestyle for the community.
067 COMPANY
Address: 3rd floor, No. 38 Ha Dinh lakeside road, Thanh Xuan, Hanoi
Email: [email protected]
Hotline: 0768 067 067 / 0778 067 067